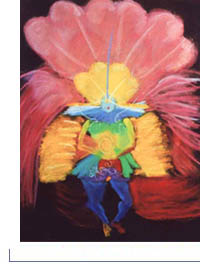 I had my first appointment with Deborah Russell New Years Eve 2001. It was a powerful experience. I left that session and wrote in my journal that I was on the brink of something big but didn't have any idea what it was.
Since that time my life has evolved at phenomenal speed. I have had new work opportunities as a teacher that have been perfect for me. I feel I have grown and learned huge things about life and about myself. A few months after that first session I took my first Healing Touch course. I continued my training as a healer and recently opened my own practice. In addition to this have been the challenges and joys inherent in dealing with my husband's business, raising our daughters and maintaining a healthy, happy marriage.
I don't think I could have made it through all of this without the support and healing from Deborah. Each session with her I have dealt with major issues and relationships in my life. The shifts that have come with her healings have assisted and sped up my personal growth. She has been clear, kind, wise and amazing. Her connection to spirit is one I will always aspire to.
I look forward to my next session with her.
Cherry-Lee Ward
Healing Touch
wardbonl@techline.com
Robert Rodgers has worked with me for about three years. He is a gifted healer. Period. I could go on for about 100 pages about what Robert has done for me, but I will spare you all that.

This last winter I was very, very sick and Robert came to me at my bedside for several visits. I held on and waited for his next callor visit. God sent Robert to me to help me get through this extreme period in my life. I don't have words to convey what this man has done in my life. I asked him how I could repay him such a debt and he said "help others—that will be the payment." Also, it seems that his very essence: his nature and personality and spirit and voice—all that he is, was made for doing this work.

He is a rare spirit guided entity, and if you get the opportunity to work with him take it, believe me. I can't think of him or say his name without thankfulness to God for letting our paths cross and for letting him be on the planet.

Lori White
Lorilexky@aol.com
I am delighted for the opportunity to write about Robert Rodgers. I have known him for several years, and in that time he has proved to be a very positive factor in my life. I have had a number (perhaps 7 or 8) of healing sessions with him. In each case I have gotten help for the specific physical problem, but also have been made aware of a larger spiritual dimension. He also was kind enough to visit me twice in the hospital after I had hip surgery, and both times brought a significant degree of healing.

He seems to have a perfect balance of solid training in his field, a fine intuitive sense for healing and a delightful personality.

Phyllis Jenness
Phyllislexky@aol.com